Mullingar conference on the Anglo-Irish Treaty of 1922
Saturday, April 9th, 2022 @ 10:00 am

-

3:30 pm

€25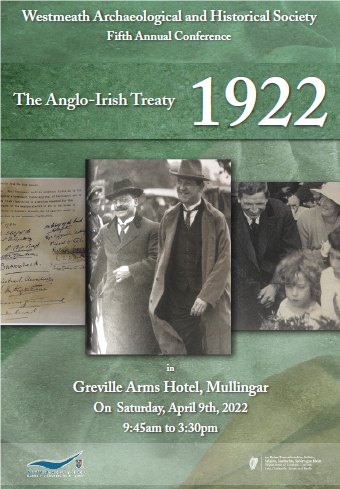 Westmeath Archaeological and Historical Society Presents
"Mullingar conference on the Anglo-Irish Treaty of 1922"
On Saturday next 9 April the Westmeath Archaeological and Historical Society will host their fifth annual conference in the Greville Arms Hotel. This daylong conference will commence at 10am and finish at 3.30 pm.
The theme of the conference is the Anglo- Irish Treaty of 1922, which had long lasting consequences for the entire island up to present times.
A very interesting programme is planned with speakers from Maynooth University, the Royal Irish Academy and local historians with a specialist interest in this revolutionary era.
The Society acknowledges the support of Westmeath County council as well as the Department of Arts, Culture Tourism, Media and the Gaeltacht, which supports events like this through the Decades of Centenaries Fund.
Dr John Gibney will examine the defining moment of the setting up of the Free State when Michael Collins drove into Dublin Castle in 1922 and asked for the keys.
On being told that he was late, he replied that his hosts were 800 years late in leaving! Local journalist and historian Dr Paul Hughes will explore the audacious activities of Laurence Ginnell who opposed the Treaty and occupied the Irish consulate in New York in protest. Well-known historian and tour guide Ruth Illingworth will look at events in Mullingar in 1922 as the barracks was handed over to Free State forces.
Dr Jennifer Redmond from Maynooth University will look at objections and alternative proposals to the Treaty including De Valera Document 2 and the attitudes of women to these momentous new developments.
Our final speaker Fr Paul Connell PhD will give a very interesting alternative perspective on the lives of young men here who had fought in World War One in a lecture entitled "The Quest for the Lost of World War One -The case of Westmeath.
A four page brochure with full details of the speakers as well as the conference programme will be available to attendees.
Admission €25 per person which includes dinner, teas coffees and a complimentary brochure.
All welcome.